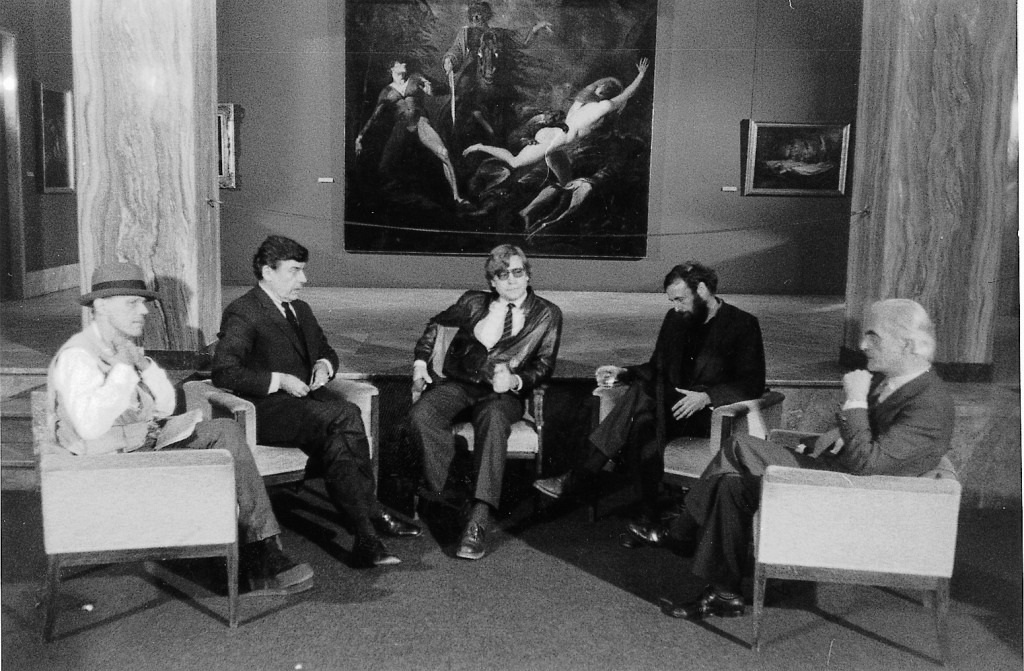 Zusammenhang Gesamtkunstwerk
November 20, 2015, 8pm
Kunsthalle Düsseldorf
Grabbeplatz 4
40213 Düsseldorf
Curated by Sonja Lau
With contributions by: Sasha Auerbakh, Stephan Dillemuth, Michael Dreyer, Jürgen Harten, Clemens Krümmel, Adrianna Liedtke, Dierk Schmidt, André Siegers, Thomas Trinkl. Performed by: Heisam Abbas, Konstantin Bühler, Thiemo Schwarz, Lutz Wessel (Ensemble Düsseldorfer Schauspielhaus), Eve Kolb
In 1983, Harald Szeemann's outstanding exhibition Der Hang zum Gesamtkunstwerk headed toward its second destination, the Kunsthalle Düsseldorf. With it, a difficult and historically charged term reappeared on stage, leading to controversies both inside and outside of the institution. Although defined as a "tendency" ("Hang") instead of a call for realization, the re-entry of the Gesamtkunstwerk and its utopian proposal of aesthetic and political fusion also ignited the need to debate the dangerous proximity between the total work of art and the totalitarian state anew.
The 1983 TV broadcast, featuring (amongst others) Joseph Beuys, Harald Szeemann and Bazon Brock during a tour through the exhibition and attending a subsequent debate, provides the point of reference for this 2nd edition of mit / von / über / nach: Zusammenhang Gesamtkunstwerk. Working along the original positions and core arguments of the discussion, different voices sneak in. They suggest re-actualisations of the performed script, and prompt the speakers on stage to choose again, more carefully and in situ, between the past and present tense of their recitals.
Zusammenhang Gesamtkunstwerk was part of the collaborative event "mit / von / über / nach (with / from / through / after)", developed together with Petra Ponte. Made possible with the kind support of Düsseldorfer Schauspielhaus and "Follow Up": Kunststiftung NRW / Ministerium für Familie, Kinder, Jugend, Kultur und Sport des Landes Nordrhein-Westfalen / Mondriaan Fund / ArtEZ Hogeschool voor de Kunsten / Sparkassen-Kulturstiftung Rheinland / Verbands-Sparkasse Wesel / Stadt Hamminkeln.
Warning
: count(): Parameter must be an array or an object that implements Countable in
/var/www/s2web398/html/wp-includes/class-wp-comment-query.php
on line
399